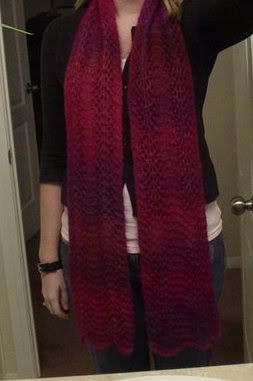 I am so glad to be finished with this scarf! It was first time with "lace" and I got the hang of it pretty quick once I figured out the pattern...dumb yo.
If this was for anyone else but my mother, I would have tossed it in the UFO pile. BUT...I would suffer it again because it turned out so darned purdy!

The yarn is beautiful with all of the great color changes, but it wasn't my favorite to work with. But I'm an instant gratification kinda girl and I usually like to stick with at least worsted weight.
Next on the needles:
* finish my 2x2 scarf
* dog sweaters! I've promised two people that their dogs would be clothed by xmas!